2017 NFL Bold Predictions
As a self-confessed NFL junkie and wannabe armchair analyst, I must admit that this is one of my favourite times of the sporting year. This is the calm before the storm, as all 32 NFL teams get their rosters ready for the season, us fans have great delusions of grandeur. We are filled with empty optimism and falsely believe that our team is destined to go 16-0 (unless you follow the Cleveland Browns, in which case the fate is reversed). This is the time where all teams and their fans seem immortal. Not a single down of competitive football has even take place yet, but that doesn't stop certain fanbases from hyping themselves up for what lies ahead, and trying to convince themselves that this year will be different. Case in point: The Chicago Bears are already telling themselves that Mitchell Trubisky is the next Aaron Rodgers.
The best part of all of this is that we are free to make bold predictions and statements for the upcoming season, free of any real ridicule. Well, that is until the end of the season where I look incredibly stupid for, say, drafting Trent Richardson fifth overall in fantasy football (really happened), or drafting Eddie Lacy third overall (again, really happened), or even predicting that Jimmy Clausen had the potential to be an All-Pro NFL Quarterback when he was drafted in 2010 (no seriously, I did predict this).
So, with that being said, let's get right into my top five bold predictions for this coming 2017 NFL season:
Christian McCaffrey makes the Pro Bowl, wins Offensive Rookie of the Year in a landslide:
Carolina Panthers rookie Christian McCaffrey is the prototype of the modern NFL Running Back. While old school, downhill runners like Leonard Fournette and Todd Gurley still have a place in the league, the position has gone through somewhat of a revolution. Backs are now required to do it all, with their play in the passing game and blocking being just as valued as their skills as a runner. The recent success of players like Ezekiel Elliot, Leveon Bell and David Johnson is testament to this. I fully expect McCaffrey to become the next all-purpose back to take the NFL by storm. During his career at Stanford, McCaffrey set numerous records, while also becoming one of the most exciting college football players to watch in the last decade. Let's just take a quick look at some of McCaffrey's records and stats in college:
Holds the NCAA record for most all-purpose yards (rushing, receiving and returns) in a single season with 3,864. He broke the record in 2015, previously held by Hall of Fame legend Barry Sanders.

Set the Stanford record for most rushing yards in a single game, rushing for 284 yards against California in 2016. Ironically, the record he broke was one he set himself the previous season (243 yards vs UCLA).

The first player in Stanford history to rush for over 2,000 yards in a season.

Set the record for most all-purpose yards in a Rose Bowl game in Stanford's win over Iowa in 2016. Was also named Rose Bowl MVP.

Finished second place to Derrick Henry in the 2015 Heisman Trophy voting.
The above resume was impressive enough for Carolina to confidently use the eight overall pick in the 2017 draft on McCaffrey, but is he set to live up to the justified hype? According to reports from Panthers training camp, McCaffrey already looks like the real deal. Teammate and fellow Running Back Jonathan Stewart has been glowing in his praise, even saying that McCaffrey is almost impossible to cover one on one. And that is why I'm so confident in tipping him for Rookie of the Year. It's that overall versatility as a complete rusher and receiver that makes McCaffrey such a weapon for a Carolina offense that desperately needs a faster tempo. I fully expect 2015 MVP Cam Newton to rebound in a big way in 2017, and Christian McCaffrey will be the player he centres this offense around.
Joey Bosa wins Defensive Player of the Year:
Joey Bosa's rookie campaign in 2016 was incredible. Bosa missed the entirety of his first training camp with the Chargers due to a contract dispute. He followed that up by missing the first four games of the regular season due to a hamstring injury. By this point, an already frustrated Chargers fanbase was starting to get anxious, preparing to throw the dreaded 'bust' label on the Ohio State Defensive End that they just used the third overall pick to transform their stale defense. When Bosa eventually took the field he was unstoppable. He proved himself to be one of the best pass rushers in the league, totalling 10.5 sacks in 12 games, while also becoming a dominant run defender coming off the edge. Perhaps the most impressive stat however, was that Bosa was responsible for 59 Quarterback pressures in his rookie season. For comparison, reigning defensive NFL Defensive Player of the Year Khalil Mack had 54 in his debut season, while superstar Von Miller had 70 in his rookie campaign. What's amazing about that is that those two achieved that over the course of 16 games, while Bosa managed it in just 12. With a full training camp under his belt there is every reason to expect Bosa to take the leap into superstardom in the NFL. The landscape of defensive stars in the NFL is so vast these days, with players like Mack, Miller, Aaron Donald and Luke Kuechly around, not to mention the return of JJ Watt. Bosa will have plenty of competition for the crown of defensive king in the NFL, but all the signs are there that he belongs on the throne himself.  
Jameis Winston enters MVP race, finishes the season as a top five QB:
Since entering the league as the number one overall pick in 2015, expectations for Tampa Bay Quarteback Jameis Winston have been sky high. This is par for the course when you leave behind a legacy in college football, as well as a Heisman Trophy. While Winston's pro career to date has been solid, and at times spectacular, there still seems to be the feeling that he hasn't quite lived up to the hype just yet. His first two seasons have been capped by the odd great play, and yes, back to back 4,000 yard seasons is a success for a young QB. Where the problem lies with Winston is consistency. He has yet to have a QB rating for the season higher than 90, and turnovers have been a problem, particularly last year where he threw 18 interceptions. So why am I tipping Winston for success? One reason is the improved supporting cast that the Bucs have assembled around him. Veteran receiver Desean Jackson was brought in as a free agent. While he turns 31 in the middle of the season, Jackson still provides a legitimate deep threat for Winston, which should also free up some coverage on superstar Mike Evans. They also used their first round draft pick on Alabama Tight End OJ Howard. The 6'5" Howard will give Winston a big target in the passing game, and will serve as a great blocker in pass protection. The pieces are all here for Winston, and as we've seen many times in the NFL, Quarterbacks usually take their biggest leap in play in their third season after the initial nerves of being a rookie, and the dreaded fears of the sophomore slumps has vanished. While the usual contenders for the MVP award such as Brady, Rodgers, Ryan etc, should be centre stage, expect Jamies Winston to play well enough this season to enter the ranks of the NFL elite.
Dallas Cowboys miss out on playoffs, finish third in NFC East:
Before I analyse this, let's address the elephant in the room. Ezekiel Elliott has just had his six game suspension upheld by the NFL. The whole situation is an ugly mess quite frankly and has been handled terribly by all parties involved. With that being said, let's evaluate where it leaves Dallas this season. Not only will the Cowboys be missing a player who accounted for just under 2,000 all-purpose yards and 16 touchdowns, but they are also missing a dominant presence on the field. Now the second season of Quarterback Dak Prescott's career becomes much more difficult than it already was. However, if you think that the Elliott situation, or a regression from Dak is the reason for my prediction, you are mistaken. In fact, I don't expect Dak to regress as much as the media is suggesting. The real problem for Dallas comes on the defensive side of the ball. The last time we saw the Cowboys play a competitive game, they were being torched by Aaron Rodgers at home in the playoffs. Dallas actively went about fixing their defense via the draft, selecting Michigan Defensive End Taco Charlton in the first round. However, expecting a rookie to fix the woes of what was honestly one of the league's least effective pass rushes is plain naïve. The Cowboys struggled all year getting to the QB, and as a result their secondary couldn't hold up. This is why I can see Dallas moving down the pecking order in the NFC East this season.
Another reason is due to overall improvement from their rivals, particularly the Giants and Eagles. While Dallas won the division last year, you could argue that come playoff time the Giants were the more feared team in the NFC. Right now New York looks to have the most complete roster in the East, while the Philadelphia Eagles may be the most intriguing. Carson Wentz is sure to improve on his solid rookie season, especially with the addition of Alshon Jeffrey and Torrey Smith. The Cowboys obviously have the talent to repeat as division champions, and the return of Elliott could be huge if they are still in contention come midseason. But as of now, there are too many question marks for me to have full confidence in this team.  
Editors note: Elliot will likely be available to play all games this season as a Judge granted his temporary restraining order.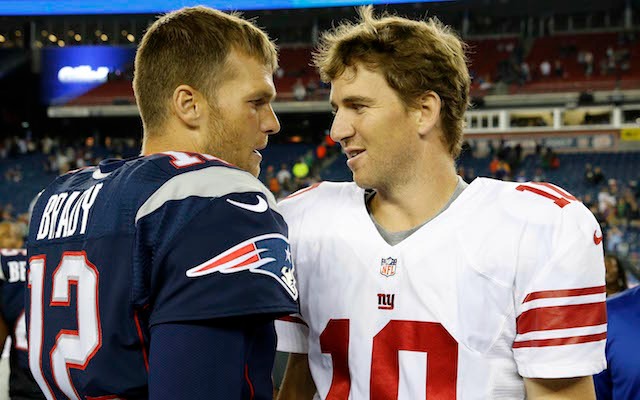 Your Superbowl matchup? Brady v Eli Part 3:
OK, admittedly the first part of this prediction is the exact opposite of bold. Every man and his dog is predicting the New England Patriots and Tom Brady to make it to the Superbowl yet again. The New York Giants on the other hand are perhaps going under the radar of a lot of analysts. The popular picks in the NFC are the likes of the Falcons, Seahawks and Packers, but I'm sticking with New York here. First of all, Eli Manning has been there and done that before. He is a two-time Super Bowl MVP and the only Quarterback to ever beat Brady in the big game. Offensively, the Giants may be the most well equipped they've ever been since Manning has been there. Odell Beckham is the undisputed star, but players like Sterling Shepard and newcomers Brandon Marshall and Evan Engram should make this a prolific passing attack. Where the Giants are most impressive is on defense. The front seven is one of the NFL's best, with players like Jason Pierre-Paul, Olivier Vernon and Damon Harrison along the defensive line. The secondary boasts tons of talent and is headed by a legitimate Defensive Player of the Year candidate in Safety Landon Collins.
The Patriots are going to be as dominant as ever. The return of Rob Gronkowski, arguably the greatest Tight End in league history, is a huge factor. Alongside Gronk, the Pats also traded for Brandin Cooks from New Orleans to give them their best deep threat receiver since Randy Moss. Defensively New England have potential to be even better than last year due to the addition of Cornerback Stephon Gilmore from divisional rivals Buffalo.
So, a Patriots v Giants Superbowl isn't bold enough a prediction? Well, I'm picking the Giants to win it all. It seems almost too easy to just pencil in another Lombardi Trophy for New England next February, but I legitimately think this Giants roster has all of the talent and depth needed to make a playoff run in January. They will have their ups and downs, but as we've seen before from Eli and the Giants, if they get hot down the stretch in December and January, they'll be the team that everyone has their eyes on.
This article was written by Killian Bowe: Killian has been working as a tv producer for Paddy Power since 2014 and is a DCU journalism graduate. He has been a fan of NFL and College football for well over a decade and is a die hard Green Bay Packers fan. He went to the season opener in Lambeau Field v the Lions last season and is 26 years old from Dublin.