Fantasy Corner – Redskins Fantasy Preview
As the new season approaches it is important to look at each team, and to evaluate each position and each player. Over the next few weeks I am going to look some of the divisions/teams, and break down the most important players from a fantasy perspective
Kirk Cousins
Cousins is coming off a decent season where he finished as a top 10 fantasy QB, and finished 3rd in passing yards. The Redskins still haven't locked him up long term so he is in yet another contact year, as he is playing under the franchise tag. I would expect another good season, where he could improve on last years numbers, as his supporting cast has gotten much stronger. The addition of Terrelle Pryor, along with Josh Doctson and Jordan Reed (hopefully in full health), should ensure that he has plenty of options in the passing game, and should be able to improve upon the Redskins poor red zone efficiency last season. I would be happy having Cousins as my QB1, and he is cheaper than some other QB's like Derek Carr and Matthew Stafford, who I feel he will outperform.
Rob Kelley
Kelley earned himself the lead back role for the Redskins last season by running for over 700 yards and 6 TD's. However, I think he could find it difficult to hold onto the role, as he can be very one paced at times and the Redskins O line has had some problems. If you factor in that the Redskins also drafted Perine in this years draft, it leaves you wondering how much confidence they have in him. He will likely open the season as starter, but I think he will end up in a timeshare with Perine, and could even lose the job if Perine performs to a higher standard. I wouldn't use a high pick on him in any format, and he is a player that I am avoiding.
Samaje Perine
Perine was drafted in a nice position to where he could see some work if he performs well. He started off poorly in the first pre season game, but his performance in the 2nd game was much better and there have been good reports from training this week. He is still a little behind Kelley, but I would expect that gap to continue to close, and for him to eventually seize the role. He is a player that I am generally avoiding too, but if he falls far enough into the later rounds he is definitely the RB to own in Washington and would be worth a pick then, as he is more talented than Kelley and has more passing game upside.
Terelle Pryor
Having converted from a QB to a WR, Pryor had a very successful season last year, going for over 1000 yards. This was particularly impressive considering it was his 1st year as a wideout and he was catching from a collection of sub par Browns QB's. I feel the sky is the limit for Pryor this season, as he is getting a huge upgrade at the QB position and in the pass catchers around him. He will be stepping into the WR1 role in Washington where there will be a wealth of targets coming from a pass first offence. While there are always some risks attached to a player on a new team, I would expect him to better last years totals, and would be quite happy to have him around WR 15 – 20(redraft) 20-25(dynasty), and it's possible he could push for a top 10 finish this year.
Jamison Crowder
Crowder emerged into a very good slot receiver last season playing as the Redskins WR3: running for over 800 yards and scoring 7 td's . He was the Redskins top Red zone threat last season, and this year he could see an increase in targets with the departure of Jackson and Garcon, and factoring in his rapport with Cousins.  He is cheaper than the other options in the Redskins passing attack, and is a player that I see as very good value in drafts.
Josh Doctson
Doctson had his rookie season ruined by injury, but is one of the more fascinating options at WR this year. He was a top rookie pick last season and was expected to perform very well until suffering his injuries. There are less expectations on him this season, and he has the potential to be the WR1 for the Redskins. He is a player to watch closely, and is a very good sleeper pick late in redraft leagues. In Dynasty I would be looking to acquire him now before his value spikes.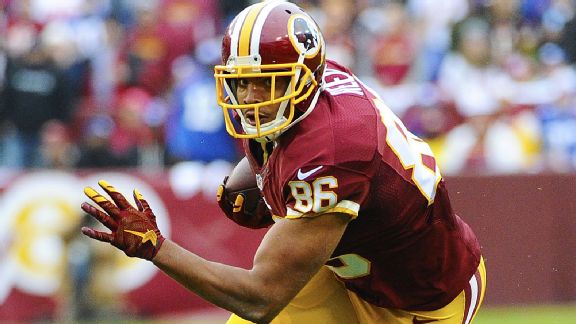 Jordan Reed
One of the true TE1's in the league at the moment, the only thing holding him back is his injury history. When healthy he is almost unstoppable, and every bit as good as the other 2 players in his tier (Gronk and Kelce), but his proneness to injury (especially the amount of concussions) make him the TE3 with lots of upside if healthy. My advice for anyone drafting him is to secure Vernon Davis late in your draft.
This OTI Piece was written by James Maguire. James is a NY Giants fan from Westmeath, Ireland. He is a huge fan of the NFL and watches several games each weekend. He has been playing Fantasy Football for over 10 years with great success in all types of leagues. Most of his articles focus on Fantasy Football covering a range of topics relevant to both Dynasty and Redraft leagues. Check him out on twitter @JamesMaguire21