Fantasy Vs Reality
You do all the hard yards during the off season. Weeding the chaff from your rosters, making calculations about Cap penalties, picking up the breakout candidates off of waivers, exhaustive research on new co-ordinators, coaches, trends, not to mention all the film grind to evaluate the rookies entering the NFL Draft.
Even then, you watch the pre-season like a Scout, trying to see where the real depth chart lies, who's getting snaps with the first team, who's getting injured and so on to fine tune your rosters and make any moves necessary either via trade or the waiver wire.
Then Week 1 arrives and……………… real life gets in the way!!
I won't get into the why, it was only trivial things anyway, but suffice to say, I was unable to watch Weeks 1 or 2 properly. Now in saying that, I might still have watched more than most, but personally, if I don't watch at least the full slate of RedZone on a Sunday, then I'm in no way informed. Obviously, I watch much more than that in a normal week, but at least getting that fix can sustain me.
So, I was delighted when Week 3 rolled around and normal service resumed. But what have I missed up to then, that has affected my Fantasy season or the NFL in general?
Well, from an NFL point of view, some things never change.
Josh Gordon is still suspended for smoking a bit of weed and Ezekiel Elliot is out there mowing down defences even though he is "suspended" for something quite different?
It's good to see Colin Kaepernick back in the league now that everyone is taking a knee…oh wait, what? He is still a Free Agent even though the likes of Josh McCowan and Trevor Siemian are starting calibre QB's and Jacoby Brissett is good enough to be traded for in the absence of one Andrew Austen Luck. Crazy!
The NY Jets still can't do tanking properly, they go and offload most of their star power and then go out and do a demolition job on the Dolphins. The Browns and 49ers likey!
The NY Giants still don't have an O-Line and even if they had, I still don't think it'd matter much as they don't have a RB….or a QB! And who knew letting your O-Line leave would turn your Offense to mush…. I'm talking to you Bengals.
Eddie Lacy…..that is all!
Some things are new though.
Tom Brady is no longer bulletproof and the Patriots do have faults, hell even Belichick does.
The Chargers are no longer in San Diego and the newest Los Angeles franchise are struggling to get the W, despite valiant effort. Actually that should be above in the "Some things never change?
There are new QB's everywhere you look, whether through design or default.
The LA Rams are atop the NFC West and Todd Gurley can catch the ball, well that's new isn't it? Surely the ghost of Jeff Fisher 8-8 seasons can be banished!
Kareem Hunt……that is all!
From a Fantasy point of view, I was heartened to see that most of my off season work is paying off and I'm at least competitive in most of leagues.
My view on some of those that are affecting Fantasy seasons out there, thus far, are below.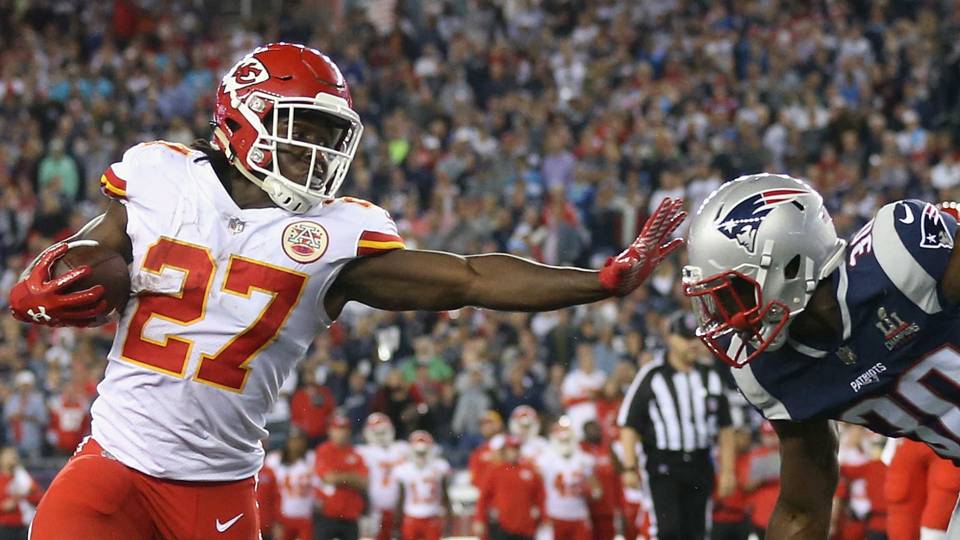 Fantasy Stars
1: Kareem Hunt
2. Todd Gurley
3. Tarik Cohen
4. Stefon Diggs
5. Tyreek Hill
Fantasy Busts
1: Eddie Lacy
2. Isaiah Crowell
3. Marshawn Lynch
4. Amari Cooper
5. Terrelle Pryor
Le'Veon Bell (Special Mention)
Now onto the next step and pushing for those Fantasy playoffs. Make the moves now to get you where you need to go.
If you second guess yourself, even at this stage, it could be fatal to your chances.
We're basically quarter way through the Fantasy season, knuckle down, analyse the situation and the options out there and pull the trigger or else get out of the way……I'm coming through!!
This OTI Piece was written by Eric Flynn. Eric is a San Francisco 49ers fan from Cork, Ireland. Huge fantasy focus on game weekends. He has been playing Fantasy Football for over 6 years in all types of leagues, having started out in IDP leagues. Check him out on Twitter @EricJohnFlynn