Overtime Ireland Predictions – Best Fantasy Players 2018
Before the season began I posed a number of questions to some of the Overtime Ireland writers about who will come out on top in a number of Fantasy categories this season. Below you will see the answers from myself, Luke O'Brien and Eric Flynn. If you have any questions/feedback you can find us on twitter at @JamesMaguire21 @lukeobrien21 and @EricJohnFlynn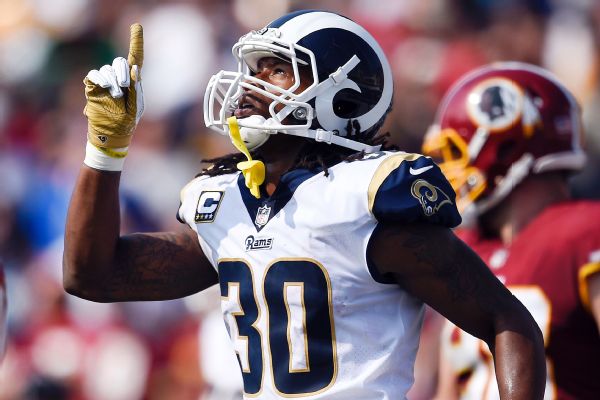 Fantasy MVP
James – I can't look past Todd Gurley for Fantasy MVP. He was fantastic last year and carried alot of owners to championships. I know that the top RB has been different every year for the past number of seasons, but I think Gurley can break that trend and repeat his great form from last year.
Luke –   Alvin Kamara has the potential to not only be the best player in PPR, but also the best non-PPR player too.  Considering the Fantasy season he had in 2017 when he had to share the backfield with Adrian Peterson and Mark Ingram.  This year there is no AD and Ingram will be suspended for part of the year.
Eric – Rob Gronkowski is primed to outscore all other TE's to the extent that the difference he makes at the position catapults teams to championships.
Best Fantasy QB
James – Have to go for Aaron Rodgers here. He is the best QB in the league and I expect both him and Adams to dominate this year. If DeShaun Watson follows up on his form from last season then he could challenge him, but Rodgers should be top.
Luke –  DeShaun Watson – There is a reason he is being picked as high as the third round in some leagues.  From the sample size we had last year (which was admittedly small) Watson showed the dynamism that many thought would not translate to the pro game.  Watson could be the consistent Fantasy monster that we all thought Newton could have been.
Eric – Aaron Rodgers got paid like the top QB in the league because he is the top QB in the league. So what can I say except, Keep it simple, stupid.
Best Fantasy RB –
James – I have to say Todd Gurley again here. He's extremely talented and is the safest pick. If I was looking for an alternative with upside I would say Dalvin Cook has the potential to be number 1.
Luke – Rather than saying Kamara again, I'll go with David Johnson.  After his missed season due to a torn ACL he has had a year to heal all the other small injuries a Running Back can pick up. Just remember the season that Peterson had when he came back from injury.
Eric – David Johnson is back in Arizona, under new management, who will no doubt look to rebuild around him. No need to worry about coming back from injury as it was only a hand injury and not the usual lower body injuries that afflict RB's. Can he go 1,000 yds rushing and receiving?
Best Fantasy WR
James – For me this boils down to 3 WR's – OBJ, Michael Thomas and DaVante Adams. I think it will be very close between the 3 of them as they should all have great seasons. I will go for Michael Thomas to come out on top as I think the will be the most consistent of the 3 with Brees throwing him the ball and a good running game.
Luke –  It was always going to be Antonio Brown.  There is a reason he is trending towards being one of the greatest receivers of all time.  Its not just the yards he racks up, its also (and most importantly) the catches.  Over 100 in each of the last five seasons.  With Le'Veon Bell still holding out, his catches will have to be re-distributed, and why not Brown.
Eric – Julio Jones is an awesome receiver who doesn't get the same love as Antonio Brown and OBJ. Julio gets all my love this year to break out of his TD allergy and make DB's look stupid week in week out.
Best Fantasy TE –
James – This also boils down to 3 players – Gronk, Kelce and Engram, as there is a big drop off after those 3 TE's. I like Kelce to emerge on top this season as I love the Chiefs offense. They have alot of mouths to feed, but I trust Mahomes to take over from Smith, and can see him targeting Kelce and Hill alot.
Luke –  I recently wrote an article on another site about how Gronk's time was coming to an end. Whilst that might be up for debate, what isn't is that he is still by far the most dominant Tight-End in football either from a Fantasy or on the field perspective.
Eric – Gronk Smash!! With 4 WR on the 53 man roster in New England, none of which excite outside of Chris Hogan, Gronkowski will be foremost in Brady's sights and since his eyesight is probably ailing with age, he can only narrow his focus and will see Gronk all year long.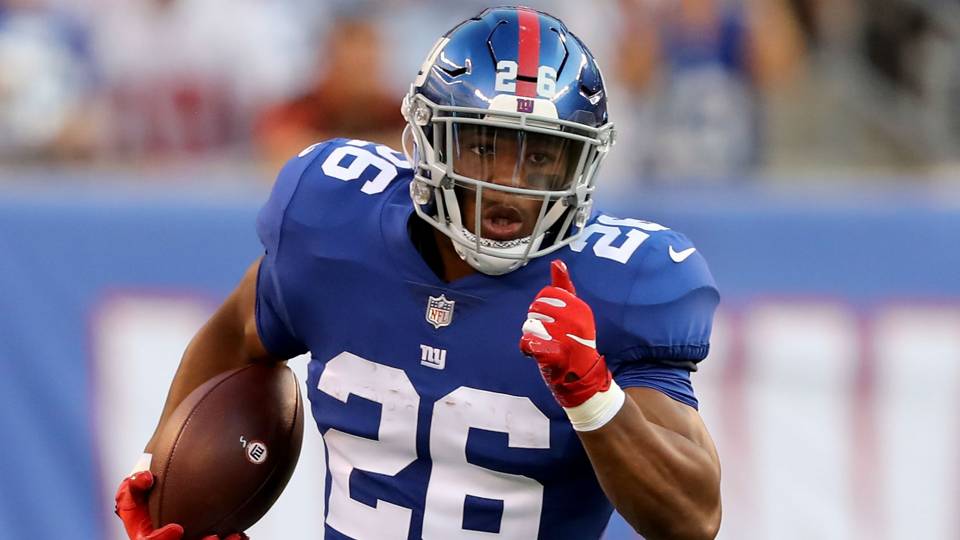 Fantasy Rookie of the Year
James – Has to be Saquon Barkley. He's an amazing talent and even with the Giants dodgy offensive line he still should score enough points to make him the top rookie. The only other alternative would be if one of the rookie QB's starts and performs well, but I still think Barkley will be better.
Luke – Saquon Barkley is the easy answer here.  He has everything set up for him with the Giants.  A decent passing game which will force opponents out to blitz less and the addition of Will Hernandez at Guard could be key to Barkley's Fantasy value.
Eric – Easiest school subject, everyone gets an A+ with Saquon Barkley. Drafted at 2 overall and with no competition for touches in the backfield (J Stew is cooked), Barkley will dominate the RB snaps if his hamstring stays attached.
Fantasy Sleeper –
James – Green Bay's 3rd WR has found some fantasy success in the past and a player I like is Geronimo Allison. I own him in quite a few dynasty leagues and think he will have a good year, and could be even better next year.
Luke – This one is a deep sleeper – Adam Humphries.  He is currently only owner in 0.1% of league, but is the starting slot receiver for the Bucs.  He isn't a big YPC guy, averaging only 10.3, but he is a PPR sleeper.  Last season he caught more passes than; Sterling Shepard, JuJu Smith-Schuster, Alshon Jeffrey and even DeSean Jackson.  You're Welcome.
Eric – Andy Dalton is going at QB26 with weapons like AJ Green, top 10 draft pick John Ross, Joe Mixon and Gio Bernard in the backfield and the possible Lazarus return of Tyler Eifert. He is criminally undervalued, as always
Fantasy Bust –
Eric – Kenyan Drake is going at RB15 or thereabouts. He's just not a guy I see owning the backfield in Miamie and there is probably more of a chance that Frank Gore pushes the pile for one more year. At his current price he's going ahead of the like of Alex Collins, Jay Ajayi and Royce Freeman, all of who I'd take over him.
James – I think Kenyan Drake has a high probability of being a bust.  He's going far too high in drafts and with Gore in the backfield as well I don't think he will offer a good return on investment.
Luke – Ezekiel Elliott – First things first, he won't be a bust in the truest sense of the word, but of the big 4 or 5 Running Backs, he will struggle the most.  What people have to remember is that Elliott whilst amazingly talented is also playing behind one of the best Offensive Lines in NFL history.  A line that will be missing Travis Frederick and Zack Martin for a period of time.  Tyron Smith, La'el Collins have spent time on the sidelines during preseason and the remaining Guard spot will be filled by a rookie – Connor Williams.
SuperBowl Pick –
James – From the NFC, I think it will be between the Vikings and the Rams. They are both immensely talented and have improved throughout the offseason. From the AFC I feel it will be between the Jaguars and the Chiefs. They both hinge on how their QB's play. If the Jags can get consistent play from Bortles they should go very close, and if Mahomes can play to the same level or better than Smith then they have an offence that will be hard to contain. At this stage before a game is played I would go for the Rams to win over the Chiefs.
Luke – Its really hard to bet against the Patriots.  This team is not the most talented, but they will find a way to be in with a chance come the end of the season.  As long as they have Brady and Belichick, they will always be in with a chance.  On the flip side, there doesn't appear to be any one stand-out team that can stake a claim. The Steelers, Jags, Chargers and Patriots from the AFC, the Eagles, Vikings, Packers, Falcons and Rams from the NFC all have the talent to win a Super Bowl, but the Patriots will be the ones to beat.  They always are.
Eric – LA Rams – Made great strides last season to get out of the Jeff Fisher funk. No longer an 8-8 team and with the personnel additions on both sides of the ball with Brandin Cooks and Ndamukong Suh, they are primed to make a run for it all.
This OTI Piece was written by James Maguire. James is a NY Giants fan from Westmeath, Ireland. He is a huge fan of the NFL and watches several games each weekend. He has been playing Fantasy Football for over 10 years with great success in all types of leagues. Most of his articles focus on Fantasy Football covering a range of topics relevant to both Dynasty and Redraft leagues. Check him out on twitter @JamesMaguire21
Playing on Draftkings?
Sign up using the Code OTI and you'll receive a FREE $3 ticket to play in any $3 contest with your first deposit. Use link: http://ie.draftkings.com/promo-code  and Code OTI
Warning
: count(): Parameter must be an array or an object that implements Countable in
/nfs/c11/h04/mnt/194424/domains/overtimeireland.com/html/wp-includes/class-wp-comment-query.php
on line
405