Superflex Rookie Mock Draft 2018
With the NFL draft fast approaching and Dynasty rookie drafts ready to begin, I organised a mock draft with some of the other OTI writers and players from the OTIDynasty Leagues. The draft was based on the setup for the current OTI leagues, which are Superflex leagues. I was picking from the 10th spot.
Round 1
1 – Saquon Barkley
There was no surprise with the 1st pick of the draft. Even in Superflex Barkley is the clear top choice and I would expect him to go number 1 overall in all rookie drafts. He appears to be the best player in the draft and could be one of the best RB's to play the game.
2 – Darius Guice
Guice is the clear number 2 and as above I expect all rookie draft to be the same here. Guice is a great runner and should be a fantastic player for years to come. If he get a nice landing spot it will further cement him as the number 2 pick.
3 –  Nick Chubb
Since the Combine Chubb has been rising up the boards as people can see he is over his injury. He is a great pass catcher (which NFL teams love) and I would expect him to go at either 3 or 4 in most drafts.
4 – Josh Rosen
5 – Josh Allen
6 – Baker Mayfield
This is where Superflex really differs from regular drafts as the run on QB's begins. Rosen, Allen and Mayfield all went with picks 3-5 and I would expect this in most Superflex drafts. At the moment each draft can be a little different as to who goes first, as it is personal preference, but after we see their landing spots I would expect a solid order to form. In some leagues we could even see Darnold and Jackson go somewhere in the 1st round.
7 – Sony Michel
Where Superflex increases the value of QB's and makes them go earlier, it also creates a scenario where you can get great value on other positions. In most regular draft Michel will be gone at 3 or 4, but in this Superflex he is good value at the 6 spot.
8 – Ronald Jones
Jones is another good value here, due to the QB's going early, but he also pulled up injured at the combine which could push him further down the board.
9 – Courtland Sutton
10 – DJ Moore
11 – Calvin Ridley
12 – Christian Kirk
Pick 9 is where the run on WR's began with 4 of them coming off the board in succession. Again the order could be different after the draft but I would expect at least 3 of them to go around here, and possibly earlier in a regular draft. I selected Moore as I felt he was the best value at this spot.
Round 2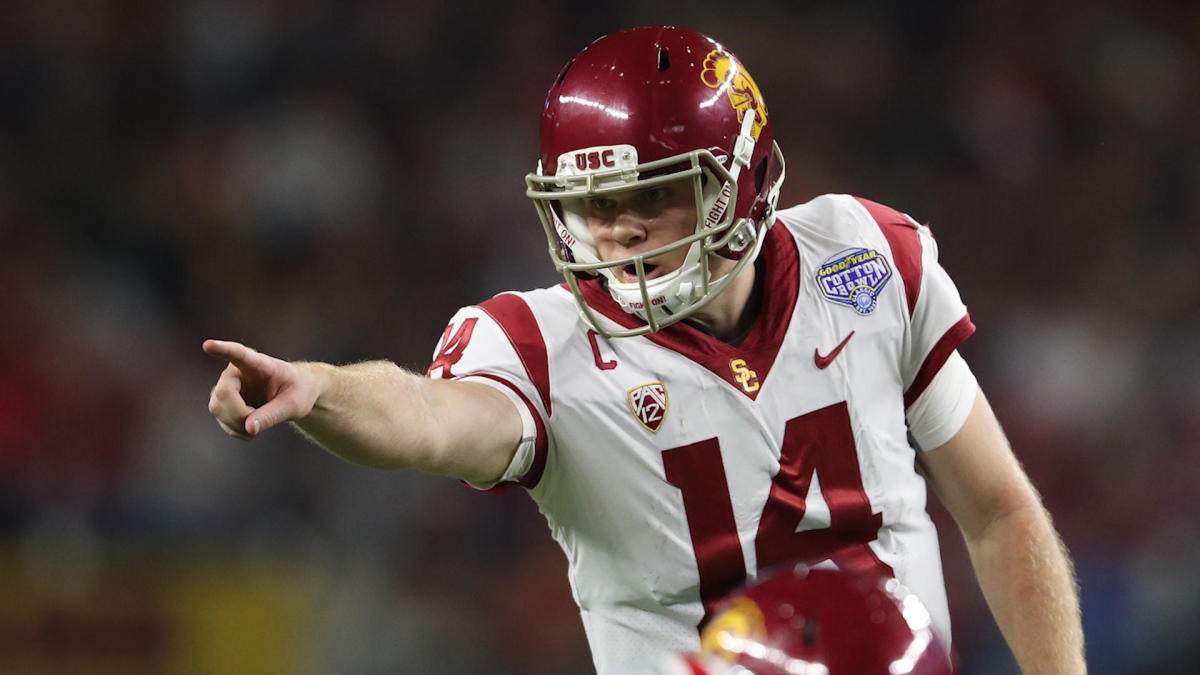 1 – Sam Darnold
2 – Lamar Jackson
3 – Rashaad Penny
4 – James Washington
5 – Kerryon Johnson
6 – E St. Brown
7 – Royce Freeman
8 – Anthony Miller
9 – Kalen Ballage
10 – John Kelly
11 – Michael Gallup
12 – Auden Tate
Round 2 saw another 2 Qb's come off the board with the 1st two picks, along with a mixture of RB's and WR's. With  the draft being full of talented RB's,  I selected Kelly with the 10th pick.
These 2 rounds of our mock give us a good example of how a typical Superflex rookie draft could pan out this year. The results show us that QB's will go much earlier than in other formats but that it will create values at other positions. It also shows us that no matter what formats players such as Barkley and Guice will retain their draft positions.
Thanks to the other writers and players who helped with the mock.
This OTI Piece was written by James Maguire. James is a NY Giants fan from Westmeath, Ireland. He is a huge fan of the NFL and watches several games each weekend. He has been playing Fantasy Football for over 10 years with great success in all types of leagues. Most of his articles focus on Fantasy Football covering a range of topics relevant to both Dynasty and Redraft leagues. Check him out on twitter @JamesMaguire21
Warning
: count(): Parameter must be an array or an object that implements Countable in
/nfs/c11/h04/mnt/194424/domains/overtimeireland.com/html/wp-includes/class-wp-comment-query.php
on line
405